Tell us about your practice.
Please select the choice that best describes your practice
The clinician has 100 or fewer Medicare Part B patient-facing encounters (including Medicare telehealth services) during the non-patient-facing determination period, during one of the segments of the 24-month non-patient-facing determination period (September 1, 2016 - August 31, 2017 or September 1, 2017 - August 31, 2018).
The clinician is associated with a practice that is in a zip code designated as rural, using the most recent Health Resources and Services Administration (HRSA) Area Health Resource File data or an area designated under section 332(a)(1)(A) of the Public Health Service Act.
50% of the practice sites within the TIN are recognized or accredited as a patient-centered medical home from 1 of 4 nationally-recognized accreditation organizations; a Medicaid Medical Home Model or Medical Home Model; NCQA patient-centered specialty recognition; and certification from other payer, state or regional programs as a patient-centered medical home if the certifying body has 500 or more certified member practices.
Eligible Clinicians (ECs)
How many MIPS Eligible Clinicians are registered with CMS for your Tax Identification Number (TIN)?
For the 2017 and 2018 MIPS performance periods, the following clinician types can participate in MIPS:
Physicians, which includes doctors of medicine, doctors of osteopathy (including osteopathic practitioners), doctors of dental surgery, doctors of dental medicine, doctors of podiatric medicine, doctors of optometry, and chiropractors;
Physician assistants (PAs);
Nurse practitioners (NPs);
Clinical nurse specialists;
Certified registered nurse anesthetists; and
Any clinician group that includes one of the professionals listed above.
Submission Choices
To avoid the 2018 MIPS penalty, please complete Option A or Option B
Option A (no EHR required)
Choose ONE of the following sets of Improvement Activities covering a continuous 90-day period in 2018.
Option A (no EHR required)
Choose ONE of the following sets of Improvement Activities covering a continuous 90-day period in 2018.
Option B (CEHRT required)
Submit one Improvement Activity and attest to all Promoting Interoperability measures.
To avoid a Medicare payment adjustment or receive a Medicaid incentive payment, health care providers must use an EHR that is certified specifically for the PI Programs. CEHRT gives assurance to purchasers and other users that an EHR system or module offers the necessary technological capability, functionality, and security to help them meet the meaningful use criteria. Certification also helps health care providers and patients be confident that the electronic health IT products and systems they use are secure, can maintain data confidentially, and can work with other systems to share information.
Final Step...
Based on the information you have provided, you have successfully avoided the 2018 MIPS penalty.
To complete your reporting, please review your selected activities and/or measures, then enter your billing information. We will complete your submission of 2018 MIPS data to CMS and you will receive an email confirmation.
Please review your selections
Measures Reported
You have attested to completing the following:
You have successfully finished MIPSinMinutes and avoided the 2018 CMS reporting penalties. We will prepare your data for submission to CMS and you will receive a separate email from us with your CMS Submission ID.
We have sent you an email with the information you entered for your records, as well as a confirmation of payment.
Thank you for using MIPSinMinutes. We hope that your experience was enjoyable. We welcome your feedback, as we continually strive to improve our products. Click to share with us.
The FASTEST MIPS solution in the industry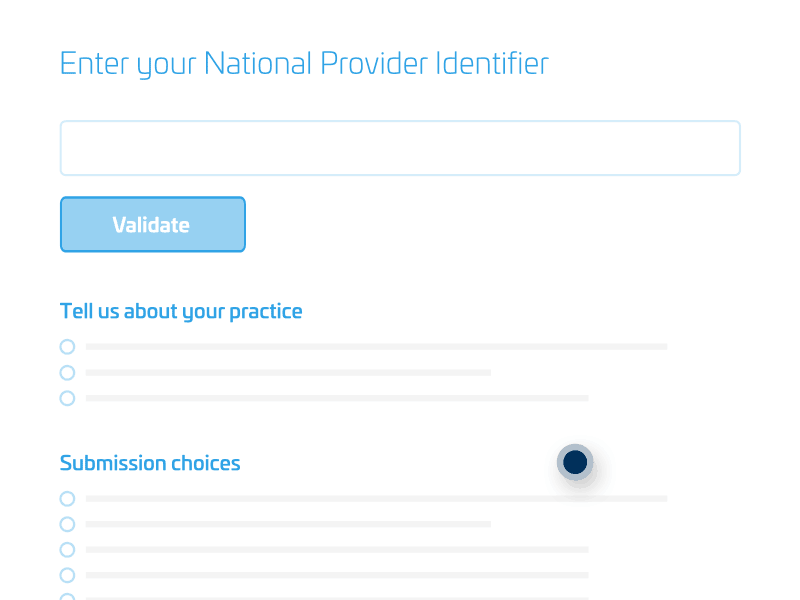 Use MIPSinMinutes to earn the minimum point value necessary to avoid penalization for the 2018 reporting year - all by answering a few questions. Here's how it works:
Enter your individual National Provider Identifier (NPI)
Select a few measures you've completed in 2018
Review and confirm selections
Checkout and Pay
"The new MIPSinMinutes offering from American Health IT is the fastest, easiest way to report to CMS Quality Reporting Program. It allows small practices like mine to simply and quickly report without the headache of full reporting and without sacrificing full penalties for not reporting. I recommend it to any physician or practice looking to ease the reporting burden of MIPS.""
Who We Are
In 2008, we became the first vendor qualified by the Centers for Medicare and Medicaid Services (CMS) to report quality data for providers in the quality program originally known as the Physicians Quality Reporting Initiative (PQRI), then later as the Physicians Quality Reporting System (PQRS), and finally today as the Merit-Based Incentive Performance System (MIPS). Our continued work with CMS and our expertise in quality measurement and reporting has enabled us to create MIPSinMinutes, an innovative first-of-its-kind product designed to save clinicians and their practices time and money.
Frequently Asked Questions
American Health IT is proud to introduce an innovative new product to help individual MIPS Eligible Clinicians whose goal is simply to avoid a negative payment adjustment by CMS.
With MIPSinMinutes, you earn the minimum point value necessary to avoid penalties for the 2018 reporting year, all by answering just a few simple questions.
Do I need an EHR to use MIPSinMinutes?
An EHR is not required to be in use during 2018 to avoid the negative payment adjustment.
Is MIPSinMinutes right for me?
MIPS Eligible Clinicians whose goal is to simply avoid the 5% MIPS penalty in 2020 will also attain the following benefits from using MIPSinMinutes:
Lowest Cost Option
Ultimate Time Savings
Guaranteed Submission Success
Solution for Small Practices (15 or fewer clinicians)
With MIPSinMinutes, to avoid the negative payment adjustment, you simply attest to completing:
ONE high-weighted Improvement Activity for at least a 90-day period during 2018
or
TWO medium-weighted Improvement Activities for at least a 90-day period during 2018
Solution for Large Practices (16 or more clinicians)
With MIPSinMinutes, to avoid the negative payment adjustment, you simply attest to completing:
Up to FOUR Improvement Activities for a minimum 90-day period during 2018
or
For those who utilize an EHR, attest to completing the 6 required Promoting Interoperability measures AND
At least ONE Improvement Activity for a minimum a 90-day period during 2018